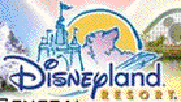 For those of us who dream of the mystery, intrigue, nd romance of a life far from civilization. Adventureland is the perfect playground- whether you're cruising through African jungles, avoiding poison darts and snakes while searching for ancient artifacts, or simply sampling the tropical faire in the village shops.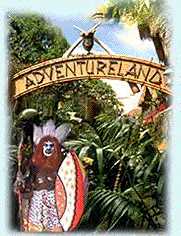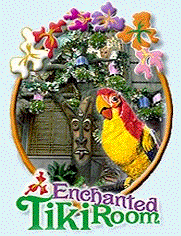 Attractions & Adventures:
Enchanted Tiki Room, presented by Dole Pineapple.
Indiana Jones tm Adventure, presented by AT&T.
Jungle Cruise.
Tarzan tm s' Treehouse.
Stores:
Adventureland Bazaar.
indiana Jones tm Adventure Outpost.
South Sea Traders.
tropical IMports.
Restaurants & Refreshments:
Bengal Barbecue.
Indy Fruit Cart.
Tiki Juice Bar, hosted by Dole Pineapple.