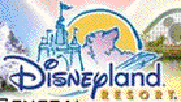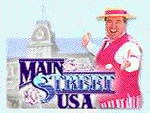 Walt Disney once said, "I love the nostalgic myself. I hope we never lose some of the things of the past." So he created MainStreet U.S.A. to make sure we could embrace those wonderful feelings of days gone by. From the decor in the old time specialty shops to the music in Central Plaza to the taste of ice cream sundaes, Main Street is pure Americana.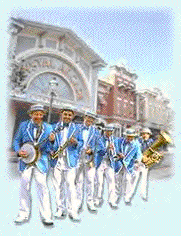 Attractions & Adventures:
Disneyland Railroad.
Main Street Cinema.
Main Street Vehicles, presented by National Car Rental. One way transportation only.
Fire Engine.
Horse-Drawn Carriage.
Horseless Carriage.
Omnibus.
The Walt Disney Story featuring "Great Moments with Mr. Lincoln."
Restaurants & Refreshments:
Blue Ribbon Bakery, hosted by Nestle Toll House.
Carnation Cafe.
Gibson Girl Ice Cream Parlor, hosted by Nestle Ice Cream.
Main Street Cone Shop, hosted by Nestle Ice Cream.
Plaza Inn.
Refreshment Corner, hosted by Coca-Cola.
Stores:
20th Century Music Company.
Candy Palace and Candy Kitchen.
China Closet.
Crystal Arts.
Disney Clothiers, Ltd.
Disney Showcase.
Emporium.
Main Street Magic Shop.
Main Street Photo Supply Co., presented by Kodak.
Market House.
New Century Jewelry.
New Century Timepeices.
Newsstand.
Penny Arcade.
Silhouette Studio.
The Mad Hatter.